One thing we hear from customers over and over again is how much they love our prints.  While we create a lot of prints "in-house" the favorite part of our job is to collaborate with other artists whose work we admire and find inspirational.  The attention to detail our artists provides is exceptional and we take such pleasure in turning these amazing prints into styles that we think our Millie customers will enjoy and pass along.  

Tara Lily
Tara grew up on family farmland in rural Northern California surrounded by the redwood forest, open meadows, and the melodic sounds of birds singing. She has always had a love for nature, and it is one of her biggest inspirations. As a child, she loved to pick wildflowers, forage for blackberries, and admire wild mushrooms beneath the redwood trees.
In addition to her love of nature, Tara is inspired by folk art, antique textiles, mid century design and her family. She loves to paint everything floral, draw charming characters and explore color. Her illustrations are found on fabric, apparel, games, home and garden decor, and a variety of paper goods. We are honored to be among her many clients.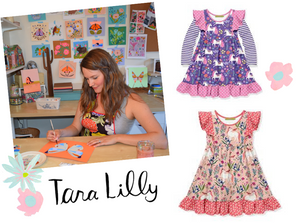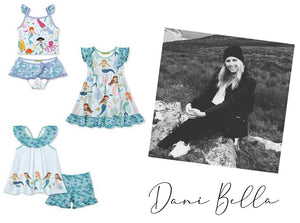 Dani Bella
Dani is a freelance designer from Yorkshire, UK. She has over 10 years' experience designing a variety of clothing, homeware, and gift products for many large retailers. She has a passion for creating products with colorful prints and patterns that are often inspired by her love of animals and nature. She has a particular flair for children's products where she can create fun and playful prints that are packed full of personality!

Kat Kalindi
Kat Kalindi is an illustrator and surface pattern designer from the sunny Gold Coast, Australia. Kat has been illustrating for over 15 years. Before going freelance she worked as an in-house textile designer for a fashion retailer. Being a collector of all things cute and botanical, Kats life is filled with lots of color and magic.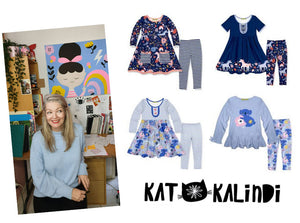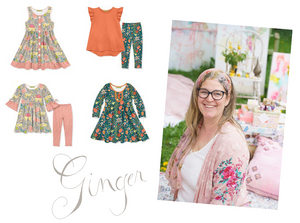 Ginger Deverell
Ginger Deverell is an illustrator and surface designer who creates enchanted and delicately wild hand-painted artwork for paper, fabric, décor, editorial and children's products. She primarily uses watercolour, gouache and digital editing, and often incorporates paper collage, acrylic and other media.
Ginger makes art to carry people into beautiful and dreamy imaginary places. Her inspiration comes from flora and fauna, bohemian and vintage aesthetics, eastern architecture and childlike wonder. She works from her early 1900's attic studio in New Westminster—on the outskirts of Vancouver, on the
west coast of Canada.
Tina Devins
Tina Devins is a surface pattern designer & illustrator based on the Wild Atlantic Way in Ireland. Her soft style explores candy-coloured whimsy and prettiness. She is inspired by positivity and the magic & joy of living in our wonderful world!
A lifetime love of stationery led to her creating her own stationery brand and her designs have been licensed on wall art, electronic accessories and childrens' apparel.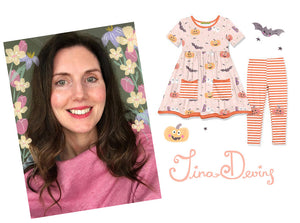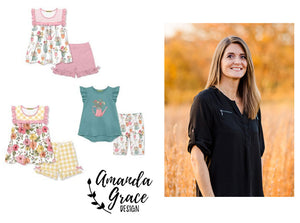 Amanda Grace Design
Amanda Grace Design has grown from a dream and become a captivating reality of drawing and design. Self-taught artist, Amanda Corcoran, has honed her keen eye and natural talent into a profitable design business full of unique patterns, colorful palettes, playful sketches, and sophisticated motifs. When Amanda is not executing her role as CEO of her husband and three inspiring children, she is drawing and creating new pieces and patterns for the world to enjoy.
Amanda is inspired by her faith, family, and the natural beauty of her rural home in Loudoun County, Virginia. (And here's a little secret, even her business name is inspired by family. The "Grace" in Amanda Grace Design is her daughter's middle name.)
Dominika Godette
Dominika Godette is a freelance illustrator and surface pattern designer from Czech Republic. Her work is colorful, bright, modem, and full of fun spinoffs on classic motifs and themes. She enjoys creating whimsical characters and floral-filled patterns. While Dominika designs for a variety of projects ranging from stationery to greeting cards to home decor, her favorite is designing for children.